Mentsch Tracht, Gott Lacht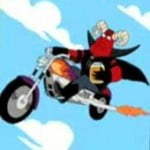 Here's an interesting little column from The Washington Post's Michael Gerson.
Mr. Gerson writes to show how willing liberal elites, particularly those in media, are to paint anyone religious as a crackpot bent on imposing Christian theocracy on America.
What is not mentioned in the piece, but what 'Puter considers essential, is liberals' absolute blindness to their own belief in government as God.
Try this experiment. Find your most liberal friend, if you have any left. Raise any social issue on which a major Christian denomination has a position (poverty, care of the elderly, wealth, etc.), and discuss it with that person. 'Puter's betting that in a matter of minutes, if not sooner, the person will start speaking reverentially of government's special place as the necessary provider of beneficence on such groups. Next, mention you think such issues are the proper province of religion/private charities, not government, and watch the venom spew.
Liberals' visceral hatred of religion, stemming from their unrecognized deification of government, is perhaps the single most important reason they are doomed to lose the Heartland and the South.