Corporations are People and so is Soylent Green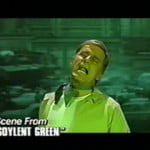 The Czar stated the following in an earlier post:
Last week, Mitt Romney famously declared "Corporations are people, too, my friend." The media high-fived each other and ran with it. Ha! What a bonehead that Mitt Rom—wait, what is that? Someone fact-checked this one, and the story died almost instantly. Why? Because, ahem, corporations are people. They are managers and employees, vendors, suppliers, distributors to and for, and (most importantly) customers. Evidently, no one in the media realized this fact;
But the wise Czar left one observation out of his post: once the media found out (shocking!) that corporations are people the next logical step that one could take is that taxing those evil corporations are….gasp….taxing PEOPLE. Where's that clip from Scanners? You know the one – where the guy's head shakes violently (fair warning it shows what it says) and then explodes. Yep. Cue that up. Next they'll figure out that Keynesian economics doesn't work either. Stay tuned.