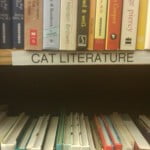 You know, the Czar got a bit creeped out this past summer when he was in a large, commercial chain bookstore and saw an aisle—an aisle—named Supernatural Erotic Teen Fiction.
That did not prepare him for the following sign he and the Цесаревич found last night at a book store:
What, exactly, constitutes Cat Literature? Once we stopped laughing, we began to look at the books.
The Inspector Dulcy mysteries by Helen Brown are quite prominent. Dulcy is a veteran English small-town detective inspector who uses bits of string pulled across the carpet to solve crimes.
Gerri Cooper's Every Cat's Guide to Thermodynamics is a popular read, even if it is a bit short. However, despite simplification of the math therein, it was a pretty engaging read for a non-cat.
The SunnyPatch Cat Sitters Club is a bit too syrupy for our tastes, but the younger cats seem to like the crazy adventures the girls get into.
And a total shocker is Hayek's Road to Serfdom. We might have thought it was just mis-stocked, but there were about eight copies there.
Cats are funny animals, to be sure.
[And Freddy Hayek is one cool cat, my babies. —ŒV]