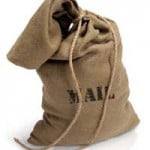 Strangest email of the day:
Oh great, dreaded and most powerful Czar of all Muscovies,

The Japanese did an entire series of battleship vs. aliens. Starblazers as it is known in English chronicles the adventures of the crew of the re-born battleship Yamato. In the humble opinion of you more humble servant, it is one of the best anime series ever.

Very Respectfully,
LittleRed1
Concerningly, the day is still young.
We do know there is just the one Muscovy, right?
Speaking of young, Uncle Jay writes in:
Isn't this the drain plug y'all installed on the ocean floor between Finland and Sweden?

Better warn them not to screw with it.

TBG
Huh. Well, the Czar went up on the Castle roof and found both GorT and Mandarin up there, dropping rocks onto the windshield of cars parked in the guest lot. He asked them about this, and indeed the Mandarin knew all about it.
You are indeed exactly correct; the Czar knew nothing about a drain plug, but indeed this was put in just in case we ever needed to drain the Atlantic Ocean into the Pacific Ocean (remember, this was before the Panama Canal was built). Even Mandy had pretty much forgotten all about it. So the Czar learned something today as well!
If they are going to screw with it, they better screw it righty-tighty!