Double Standard: Weiners and Steeler Nation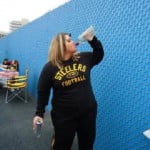 So, Rep. Weiner (D-NY) tweets his junk to women who may or may not have reached the age of majority, and he's still a sitting United States Congressman.
Meanwhile, poor Steel Valley (Pennsyltucky) school teacher Jennifer Smith (pictured, right) merely texts her desire to fellate her male charges on her desk, and she's shoved in the pokey.
Man, and here all this time 'Puter was thinking that teachers had the best unions.