8-Year-Old's Thoughts On Firearms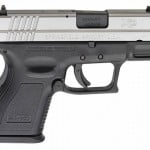 We have not had a good gun post in a while. Today, the Czar and Mandarin took the families shooting. The Inscrutable Mandarin brought the Lady Pêng of Hsüeh and Young Master MiGo, and the Czar brought the Царица and the Цесаревич; the Царевич spent the day elsewhere with his full-scale trainset.
Today was the Цесаревич's first day firing a live pistol. He was allowed to choose any weapon he wanted from a wide assortment of different manufacturers. The weapon he chose today was the Springfield Armory XD three-inch subcompact 9mm for two reasons: the Mandarin tried it before him and really liked it (and Цесаревич worships Uncle Mandy), and it fit his hand really well.
For those of us who no longer recall our first live fire experience, we thought it would be good to share what the Цесаревич thought. Ready?
A loaded firearm is much heavier than you think.
There is a lot to remember, so pay attention.
Always keep your finger off the trigger, or Dad gets mad.
It can be hard to find a place to put your left thumb. You do not want to rest it on the top of the gun.
It is very easy to pull a trigger. (More than kids think, the Czar realizes).
Handguns are much, much…much… louder than on TV.
There is sometimes a lot of smoke.
The casing that comes out of the gun is really hot. Don't pick it up right away.
The gun really jumps in your hands. It is like catching a baseball from a pitcher. You need to hold on really well.
They should make a gun for kids that doesn't jump around so much, and the bullet goes really slow. Probably that's a bad idea because the bullet will just bounce off the guy.
Why does your heart pound so hard and fast after?
When do we fire again?
Whenever you want, buddy.