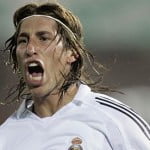 As regular readers know, 'Puter and GorT both enjoy high-level European soccer.
Last night, Real Madrid won the Copa del Rey, awarded annually in La Liga to the team that wins an elimination tournament. Real Madrid is one of the most storied soccer clubs in the worlds, and chock-full of World Cup level talent, including defender Sergio Ramos.
During the course of the celebration, Mr. Ramos dropped the 33 pound trophy from the top of the team's bus, and the bus promptly ran over the trophy.
Maybe if soccer players were permitted to use their hands, this would not have happened. Or maybe Mr. Ramos should simply carry trophies with his feet in the future.