Karate Chopping a Bullet…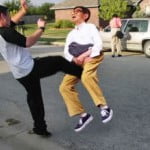 Your Mandarin happened across this very informative and interesting article by Ernest Emerson today regarding our dependency on "technology" especially when it comes to personal protection.
Your Mandarin commands that you read this article immediately.
Well, what are you waiting for? Just because your Mandarin has numerous devices in the lab that can bend, warp, and change the very essence and flavor of time does not mean that I have all day to wait for you! And for those of you who may be curious today's flavor is urinal cake.