Welcome Your New Alien Overlords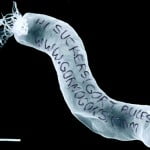 A NASA astrobiologist claims that he has found fossilized evidence of alien life on a microbe.
So why hasn't the press been busting into your regularly scheduled viewing?
Perhaps it is because the scientist, Richard Hoover, has done this before, only to be proven wrong.
Perhaps it is because the journal he published this story in—a bankrupt online journal—is not reknowned for doing adequate peer review. Or basic fact-checking.
Perhaps it is because no other scientists have reviewed his data to confirm or deny his conclusion.
Perhaps it is because a scientist intent on proving something to be true tends to suffer from terrible confirmation bias, and that his claims are immediately suspected as incorrect…as opposed to a scientist who intended to disprove such a claim and failed.
Perhaps it is all of these things.
Or perhaps it is the detailed microscopy that makes you wonder.