Mea Culpa, Mea Culpa, Mea Maxima Culpa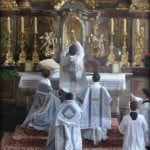 'Puter received a polite remonstration concerning this post on hippie Catholics from one of our readers who is a flesh and blood Roman Catholic priest. Too cool. 'Puter thinks he shall designate this correspondent Gormogon Operative HRE, short for Holy Roman Emperor. 'Puter assumes Operative HRE will not like the promotion, but too bad. It's 'Puter's blog.
HRE reminds 'Puter that not all priests and bishops are as far left as those assigned Upstate. In fact, HRE notes that many if not most of the priests attending seminary today are far more conservative and/or traditional than the generation that preceded them. All of this is to the good, 'Puter knew this and should have noted it.
In a nutshell, though we Catholics have endured nearly two generations of hippie music, crappy catechesis and inadequate spiritual care, the tide is turning.