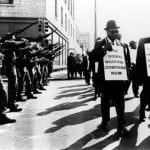 Byron York writing in today's Washington Examiner pens this column, excoriating AFL-CIO head honcho Richard Trumka for equating unions' lavish benefit packages to Blacks' struggle for civil rights. You ought to read the entire column.
It is patently offensive that anyone would equate restraining public sector union overreach with Dr. King's tireless work for equal rights for Black Americans. Here, in 'Puter's estimation, are Mr. Trumka's most egregious allegations, as put by Mr. York:
"April 4 [is] the day on which Martin Luther King Jr. gave his life for the cause of public collective bargaining," Trumka said in another speech, in Washington, on Wednesday. And on the AFL-CIO blog, there is this notice: "Join us to make April 4, 2011, a day to stand in solidarity with working people in Wisconsin, Ohio, Indiana and dozens of other states where well-funded, right-wing corporate politicians are trying to take away the rights Dr. King gave his life for."
Oh. Martin Luther King was working tirelessly for gold-plated public union pensions, no-fire clauses and seniority rights. Dr. King's struggle had absolutely nothing to do with securing the rights of Black Americans to be treated as Americans generally, no better and no worse. Dr. King's long struggle and death had nothing to do with voting rights, education rights, and housing rights. It was all about unionism.
Mr. Trumka relies heavily on the 1968 Memphis sanitation workers' strike as a basis for his outlandish claims. As crazy, right wing nutjob bastion Stanford University puts it, the struggle was about fair pay for Blacks, who were being actively discriminated against by a White mayor. It had nothing to do with unionism. Unionism was a means to an end. The end of equal rights for Black Americans.
If Mr. Trumka truly believes this, he has already lost the battle. No reasonable person can believe that Dr. King's life and death were about ensuring public sector union rights to gold-plated compensation packages. Mr. Trumka has beclowned himself and his entire movement. Of course, none of Mr. Trumka's comments will be widely reported in the media.
'Puter is curious as to what his Black readers think of Mr. Trumka's comments. Do you believe that the Dr. King's (and Black America's) struggle to be treated equally had anything at all to do with union rights, except tangentially?