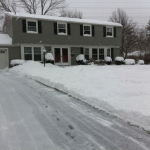 This is what it looks like outside 'Puter's house this morning.
There's 12 to 18 inches on the ground as of now. Upstate is supposed to get perhaps another 6 to 12 inches by tomorrow morning. And, perhaps a significant Nor'easter this weekend.
The clean driveway is courtesy of a Jacobsen Imperial 26 snowblower, built in the early 1970s. In true Gormogon fashion, it has absolutely no safety features whatsoever. No deadman. No chute protection. It simply works, and won't quit. It's so heavy, 'Puter believes it could survive a direct nuclear strike. America used to build stuff to last.
N.B. 'Puter purchased a home backing to power transmission lines in order to make his spawn less smart so he won't have to pay for their college.