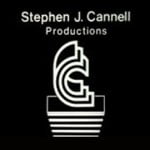 The Gormogons are remiss in celebrating the life of Stephen J. Cannell who passed away on September 30, 2010. Mr. Cannell worked hard (in his terms he strived for "over-performance") to advance in a rough industry that he was interested in from a young age. He worked through his affliction with dyslexia and the loss of a son (in a strange accident where the son suffocated after a sand castle collapsed on him). His career includes the following:
16 novels – a recent effort in his life
Created or co-created over 40 Television shows
Scripted over 450 episodes within those 40 shows
Produced or Executive Produced over 1,500 episodes
Multiple screen writing and associated awards
Your Gormogons grew up watching Cannell's shows (some where he wrote, directed, produced, created…) including: The A-Team, Hardcastle & McCormick, Silk Stalkings, The Greatest American Hero, Hunter, 21 Jump Street, Ironside, Tenspeed & Brown Shoe, Black Sheep Squadron, The Rockford Files, Riptide, Wiseguy, and many more.
His entertaining (even if campy or cheesy) shows will be missed – I recommend hitting up this Hulu link in remembrance.