You Cannot Say We Ain't Thorough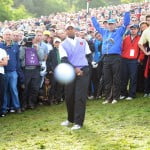 Okay, so it turns out that photographer Mark Pain was covering the Ryder Cup, and managed—by pure luck—to take a picture a split-second before Tiger Woods hit him with a golf ball.
The picture is here.
Cool, eh? Okay, but the Mandarin was looking over the Czar's shoulder and said, "Look at this goofball."
He pointed to a guy in the front row on the far right. What, was he auditioning for Caddyshack III?
Now we think this is the wildest thing in the picture.