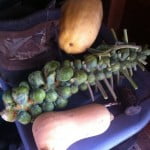 Early weekend mornings are a good time for reflection. Lately, as 'Puter's been recovering from his back surgery and unable to do much of any exercise, he's been rising earlier than usual. This morning, 'Puter wasout of bed with coffee on by 5:30 a.m.
'Puter planned his dinner menu as he prepped the coffee maker: barbecued pork steaks, home made bread, spaghetti squash, Caesar salad, baked potatoes and apple crisp. He then headed out to the local farmer's market and butcher. Pictured right is a sampling of the produce 'Puter purchased. Until you've had oven roasted brussels sprouts seasoned with kosher salt, black pepper and a hint of cayenne, you haven't tasted Upstate Fall. And 'Puter's kids love his spaghetti squash gratin. Unfortunately for 'Puter, the butcher's doesn't open until 9:00 a.m., so he will be heading back shortly.
When 'Puter arrived home, purchases in hand, he realized he had not checked the mail yesterday. In the mail was a bill for his back surgery, now a month ago. 'Puter's share of the tab was $22.10. You read that right: $22.10. The overall tab was $6,624.27. Heck, if 'Puter had known that the discectomy was that relatively inexpensive, he would have paid cash to have it done last May, rather than suffering through the summer and incurring another debilitating flareup in late August in order to satisfy the insurers.
And, moving backwards through the space-time continuum (as GorT is wont to do), 'Puter and his family spent a most enjoyable evening with one of his college buddies, up from northern New Jersey. The dinner and the conversation were refreshing. Said college buddy is an unrepentant, dyed-in-the-wool liberal. Yet, as a result of his Jesuit education (and 'Puter's as well), we have always been able to disagree civilly and remain fast friends. Neither time nor distance has changed our deep respect for one another. It is good for 'Puter to know that there are people of good faith on the other side of our political discourse. Such knowledge gives 'Puter hope for our country.
So, back to 'Puter's early morning pensees. 'Puter is thankful for the following: (1) his friends and family; (2) the low priced, easily available local fall produce and the work of those who produce it; and (3) the skill of his surgeon and all the medical personnel associated with his operation; and (4) gold-plated nearly free union provided health insurance. Number 4 makes 'Puter gag a bit, and feel hypocritical, yet still he gives thanks.
Thanks to God for all he has generously provided 'Puter, His unworthy servant.