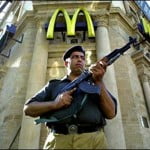 Oddly, 'Puter finds a lot to like about Mayor Bloomberg's jihad against food stamp recipients using taxpayer dollars to purchase soda. To be fair, 'Puter first heard about this from Nanny State Advocate Number One Mika Brzezinski over at Morning Joe. (Would it kill her to smile once in while? She looks like someone peed in her Starbuck's most mornings.)
Ms. Brzezinski and Mayor Bloomberg are huge fans of telling others how to live their lives, particularly in what they eat. In fact, they believe it is the moral duty of government to prevent people from eating what and how much they want. Mayor Bloomberg is renowned for his campaigns against salt and trans fats in New York City. If they could, Mayor Bloomberg and Ms. Brzezinski would dictate food choices for the entire nation, outlawing entire categories of food and drink.
"'Puter, did you have one too many Frangelico and Frescas this morning?", you may ask. Nope. 'Puter hasn't touched those since the night Czar and he inadvertently caused the the Hungarian Toxic Flood of Doom.
'Puter loves this plan because it opens the door to an argument he's been wanting to make for years. If you are a ward of the government (i.e., receiving welfare benefits), the government is free to treat you like a child. This is an opportunity for small government advocates to radically redesign welfare, with the opportunity afforded by liberal overreach.
If I'm feeding you, I get to say what and when you eat. You get no say. So goes Mayor Bloomberg and Ms. Brzezinski's argument. OK, fine.
Now let's extend that a bit. If I'm paying for your housing, the police don't need a warrant to search your dwelling. It's like 'Puter being able to consent to a police search of his son's room, as 'Puter is really the owner of the house. If you live under my roof, you live under my rules.
In short, make life so embarassing and miserable for people on welfare that they'll do anything to get off it. To be clear, this is not a call to make benefits so parsimonious that people do not receive adequate food and shelter, but rather a call to make receipt of the benefits so intrusive and embarassing that only the truly needy seek them out. As an added bonus, the discomfort gives recipients an incentive to get off the dole as soon as possible.
Just a quick thought about some potential positive unintended consequences of the Left's nanny statism.