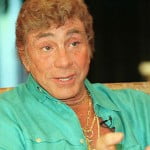 As a karate expert, 'Puter has ordered the courtyard flag flown at half-staff today, in honor of the passing of Bob Guccione.
Mr. Guccione, aged 79, instilled in young men a love of reading, primarily through his production of high quality bathroom reading material. The Castle's librarian Miss Bookbinder has painstakingly assembled a complete collection of Mr. Guccione's life work. Unfortunately for visitors, Sleestak and Dat Ho currently have all items checked out in perpetuity.
Join 'Puter and the Czar down at the Leaping Peacock for a memorial service this evening. Attire is business naked.