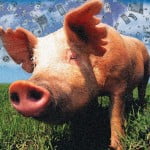 Let's frame this correctly – President Obama, VP Biden and the Democrats in Congress have continued to tout the successes of the Stimulus Bill. Yesterday we get the following:
The Los Angeles City Controller said on Thursday the city's use of its share of the $800 billion federal stimulus find has been disappointing. The city received $111 million in stimulus under American Recovery and Reinvestment Act (ARRA) approved by the Congress more than year ago. "I'm disappointed that we've only created or retained 55 jobs after receiving $111 million," says Wendy Greuel, the city's controller, while releasing an audit report.
Are you kidding me? $2.018 Million per job. How about just paying 1,585 people about $70K (roughly the median household income in California last year)…I think that would be a better success. LADOT was awarded $40.8 million and created or retained 9 jobs, though they were expected to create 26 jobs overall.$40.8 Million for 26 jobs? That's $1.5 Million per job. Does anyone out there get the fact that (a) government isn't the answer, (b) government is inherently ineffective and slow, and (c) the Stimulus is not working regardless of what the out of touch democrat leaders are putting forward. At the (better) pace of $1.5 Million per job, if the government expended the whole $787 Billion Stimulus Bill, the country would net about 524,667 jobs. At a time when we're MILLIONS of jobs under. Creating a job via the government isn't the answer and when all these "shovel ready" jobs are complete, what happens then?