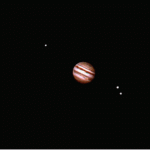 The Czar has been spending time at his home in Muscovy, away from the Castle. Yesterday, he spent the evening with Царевич, the 5-year-old Grand Duke of Muscovy. We went for a nice walk after sunset, watching the moths come out, and seeing the lights of our hamlet come on.
After our walk, we looked at the near-full moon, and the Czar told him about some of the many things we have hidden up there. Inspired, the Czar took him to the Royal Observatory and we looked through the lens of the scope at the mountains and craters of the Moon. He was very impressed.
But the Czar recalled that the Jupiter is quite prominent in the heavens being at opposition to the Sun. In fact, after sunset, if your skies are clear, you should look East-Southeast over the horizon and see a brilliant white star in the sky, left of the Moon to you Northern Hemispherites. That is Jupiter.
We turned the scope to look at it, and we were rewarded with a view not unlike the one you see here. Jupter and the four Galilean moons. And the beautiful stripes. The Great Red Spot was not visible, as it was on the nighttime side of Jupiter. This is not a photo from our viewing last night, as the moons were in a different arrangement at the time, but Царевич understood that he was looking at another world, millions of miles away, live—not on a video, not in a photograph, but the way it looked about 35 minutes ago. Царевич stared at the massive world so far away, yet so close. The Czar asked him what he thought about seeing such a sight for himself.
"I love you, Dad," he answered, and inside we went for juice and cookies.
Clearly it was a night we might remember for a long time. Each for a different reason.