Pass me those rose-colored glasses, will you?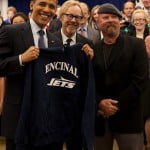 Summer at the Castle is wrapping up. School supplies are being acquired, last minute getaways are almost done and order to the chaos that was the kids' summer schedules is returning. Of course, we have to deal with this little tidbit. Hearing no changes to "Say it ain't so, Joe" Biden's cheerleading about the Summer of Recovery, I would borrow a term from Mythbusters and rule his claim: BUSTED.
Look, there are looming economic problems that we haven't dealt with yet – specifically, the dollar and national debt. Those are the two elephants in the room that will be at the center of the next, upcoming dip in the economy. And fueling this will be the huge amount of uncertainty currently in the economy. Bank lending to the private sector remains uncertain with the new finance reform bill's unwritten controls over that area. Uncertainty exists within private industry and individuals over what is to become of the healthcare industry with ObamaCare kicking in. Uncertainty over any changes to the tax code for next year with the expiring tax cuts at the end of this year. Uncertainty of where the Obama administration will go next with its agenda…if it really has a cohesive one. The investment community doesn't like uncertainty and, like it or not, we're all tied to that through our daily savings (hopefully, people have those) and our retirement savings.
The Stimulus efforts, while maybe stemming some of the impact of the recession wasn't the saving bullet that Biden, Obama and Romer (Obama's now-former chief economic advisor) claimed. Obama's ridiculous claim that at least we didn't hit 15% unemployment illustrates his amateurism. Home sales are down. Auto sales are at their lowest since early 2009 (maybe we'll get another cash-for-clunkers proposal). Over five million people are no longer in the workforce which is about the only thing saving this administration from having to defend a 10%+ unemployment rate (if they were added to the base calculation for unemployment, we would realize about a 1.6% increase bringing us to about 11.1% unemployment rate).
Even Dean is jumping on Obama and his administration…things are not looking so good even though they are putting forth the rosy picture. And, Mr. Vice-President, I'd take that bet given your track record.