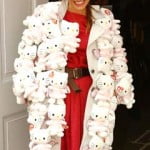 Sweet baby Jesus in the manger, what is wrong with men these days? It's as if we have collectively decided to chuck away any remaining shred of our dignity.
First, metrosexuality chipped away at our hairy manliness, with its manscaping and crappy girly cocktails. That was bad enough. Next, we've had to live through the heroin-skinny Brooklyn hipsters with ironic hats.
Now 'Puter learns from ABC News that 25% of British men travel with stuffed animals. Jesus H. Tapdancing Christ on a Bicycle, what is wrong with you all? It's as if you've given up, and decide to swap your meat-and-two-veg for a man-gina.
The nation that gave us the British Empire, Winston Churchill and Margaret Thatcher now foists on the world a cohort of hairless, stuffed-animal-hugging man-babies.
How the mighty have fallen.