Happy Feast of the Assumption!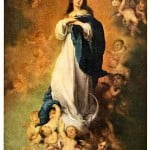 What follows is some Jesus-y Catholicism commentary. We will return you shortly to your regularly scheduled programming.
Today is the Catholic Feast Day of the Assumption of the Blessed Virgin Mary. It also would have been 'Puter's grandmother's 101st birthday. So, in celebration of two women named Mary, let's review two of Catholicism's greatest prayers.
The Magnificat
My soul doth magnify the Lord.
And my spirit hath rejoiced in God my Saviour.
Because he hath regarded the humility of his handmaid;
for behold from henceforth all generations shall call me blessed.
Because he that is mighty,
hath done great things to me;
and holy is his name.
And his mercy is from generation unto generations,
to them that fear him.
He hath shewed might in his arm:
he hath scattered the proud in the conceit of their heart.
He hath put down the mighty from their seat,
and hath exalted the humble.
He hath filled the hungry with good things;
and the rich he hath sent empty away.
He hath received Israel his servant,
being mindful of his mercy:
As he spoke to our fathers,
to Abraham and to his seed for ever.
The Memorare
Remember, O most gracious Virgin Mary, that never was it known that anyone who fled to thy protection, implored thy help, or sought thine intercession was left unaided.

Inspired by this confidence, I fly unto thee, O Virgin of virgins, my mother; to thee do I come, before thee I stand, sinful and sorrowful. O Mother of the Word Incarnate, despise not my petitions, but in thy mercy hear and answer me.
In the Magnificat we are reminded through Mary that God, not man, is in charge. God will lay low the haughty and powerful and exalt the humble and downtrodden. It is a revolutionary prayer, one that was banned in Guatemala nominally to prevent the Church giving the poor anti-government ideas.
In the Memorare we are reminded of Mary's special relationship to the Trinity, as well as the infinite mercy of God.
Both prayers remind us of our need for God, as well as His love for us. We could do worse than remember that on this Feast Day, and Granny's Birthday.