Genny, Genny, Who Can I Turn To?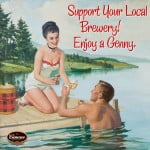 Upstate New York is on its way to becoming a drunkard's paradise, thanks to Genesee Brewing. When a 12 ounce curl isn't enough, the home of the Green Death brings you a 24 ounce can.
'Puter's favorite part of the article is where the brewery explains that it's simply trying to break in to the lucrative convenience store more-beer-equals-faster-drunk line up.
And who else is producing beer in that quantity that Genesee wants to brew for? Colt 45 (does Billy Dee come with every bottle)? Schlitz Malt Liquor ('Puter loved their ads during football games in the '70s)? Haffenreffer Private Stock Malt Liquor (which 'Puter liked in college, because the rebuses under the caps let you know when it was time to stop drinking, or at least slow down)?
Well, when the weather sucks, taxes are skyrocketing, and the guy driving the economy bus is wilfully blind, it's probably best to be intoxicated when the end comes.
So here's to you Genesee Brewing, enabler to drunks everywhere!