Free Hello Kitty Ringtones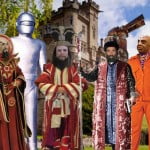 Never mind the title. Regular readers know full well that this will bring in several hundred thousand hits from around the world.
Ghettoputer mentioned the other day at dinner that we missed an anniversary here. In 2008, our marketing department opened our website to the public for the first time. And last time, because we fired them for the sheer incompetence of thinking an international conspiracy should have a public website. But three things happened: (1) we do not, it turns out, actually know how to turn it off, so here it stands, (2) we actually like having you front lumps read our stuff and write in with your own thoughts, and (3) we noticed within days of our marketing department's sacking, office supply pilfering dropped to zero.
Would you do us the honor of staying around for a couple more years? The next two ought to be really interesting.