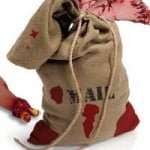 Gush! JS writes in to tell us what you already know, but what we can't get enough of!
Keep up the great work. I don't remember how I found your site (nationalreview.com, perhaps?), but I've enjoyed reading it these past few months. You guys are awesome—your site has just the right amount of crazy and insight to make it readable and entertaining. Not to mention terrifying.
Thank you, thank you! Our goal, as always, is a happy blend of Addams Family, National Review Online, and the classic Mad Magazine. We hope you agree, and please keep coming back and staying in touch. JS gets a free room upgrade at the Castle. Or, at the very least, all of his stuff back that the Tcho-Tchos pilfered at check in.