Bet We Wind Up Bailing Them Out One More Time?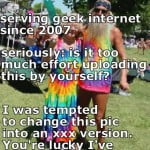 It turns out that Baby Boomers may screw up the economy worse because they now have less money to spend during their retirement on goods and services.
Well, the Czar is not surprised. The Boomers have been a pain in the ass of America almost since the start of the Cold War. But here is the delicious irony:
"We will have to learn to make do with a lot less in material things," says Gary Snodgrass, a 63-year-old health-care consultant in Placerville, California.
Wasn't that your biggest message in the Sixties, chief? Hey, try eating all that peace and love you made us pay for!