♫ Panic on the streets of London…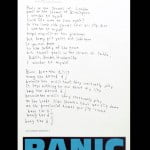 …Panic on the streets of Birmingham
I wonder to myself
Could life ever be sane again? ♫
So, yeah, remember the guy Obama knew he couldn't get through Congress, so gave him a recess appointment as head of Medicaid & Medicare? Right, Berwick. Big fan of the NHS.
So, let's check in on the NHS. How are things going over there?
Oh.
Well.
That's not ominous at all.
Good thing there's nothing else to—what? I posted what an hour ago? Oh.
Sorry.
Poster image from Rock Explosion, which has some ludicrously cool stuff.