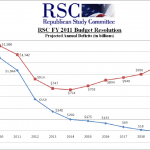 So when the majority party (Democrats) in Congress fail to execute one of their core duties through their cowardly non-vote approval of a budget what do you do? Well, the Republican Study Committee (RSC) decided to work up one of their own. Guess what? The RSC's budget gets us back to a balanced budget by 2019. (Click on the picture to enlarge and see the difference, note: the graph is showing debt vs. time and the RSC's is in blue). They released this budget with an overview that outlines several principles:
While I don't agree with some of this (I think we need to consider cuts to the entitlement programs such as Social Security, Medicare and Medicaid), they do apply some good principles. If you've got time, read the paper. It is well done and professional. If not, here are a few key proposals:
This proposal would prohibit federal employees from using official time to collectively bargain on behalf of a union, which would save an estimated $250 million annually. Currently proposed legislation H.R. 3251 (Gingrey, R-GA)
This proposal would eliminate all taxpayer money dedicated to Planned Parenthood, at an annual savings of $305.3 million.
This proposal would repeal the Davis-Bacon Act which, according to one analysis, would save $11.4 billion in FY 2010 alone. Current proposed legislation H.R. 2900 (Mack, R-FL, King, R-IA)
This proposal would prevent automatic pay increases for Members in the current Congress and thus comport with the 27th Amendment of the Constitution.
This proposal would reduce Congressional staff by 10%, which by one estimate would save $1.7 billion over ten years
This proposal would align federal pensions to the five-year average, saving taxpayers $4.4 billion over ten years
This, and variants of it, should be plastered and broadcast all over the place as we near November.