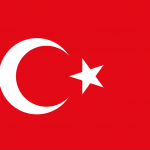 Sorry, KM, the pre-Islamic Allāh (either a proper name, perhaps from Aramaic alāhā, or a contraction of al-ilāh, "the god, deity, the one worshipped") was a supreme—though not sole—god in the Arabian or perhaps Meccan pantheon. He was more of a Zeus, with goddess daughters and god sons. There doesn't seem to be any particular contemporaneous association of him with the moon.
Arab Christians and Jews use the word Allāh to mean "God," as well, and in Christian usage it predates Islam considerably, so it's entirely possible that the Meccan/pagan use of it was a still-more ancient borrowing, or perhaps parallel evolution if the "al-ilāh" theory is true.
That said, Muslims understand Allāh to be the same God that Christians and Jews worship, but their theology of God is much further from the Christian and Jewish understanding than they are to each other. (That said, Islam's God is radically monotheistic in "Jewish" way, if you will—Christian Trinitarianism being incomprehensibly polytheistic to most of its Muslim and Jewish interpreters.) So, if you're arguing theologically, sure, it's a different God than yours, but in broad strokes, they understand it to be the God of Abraham—even if they have a different take on what that entails, who Abraham was, etc.
The "moon god" story probably is a use of the goddess Allāt, one of the "daughters" of Allāh (who shows up in the Koran as an idol to be deposed). But to be honest, no one really knows very much about what was going on in pre-Islamic Arabian religion, much less what these gods and goddess stood for exactly.
The moon shows up a lot in Islamic culture because of the fact the Hijrī calendar is a lunar one, and thus time is divided by the moon's phases, consequently being a good symbol for the regulation of life by God (prayer times, etc.), as well as just being a plain ol' useful motif.
Anyway, the use of the crescent moon as a symbol of Islam actually seems to be a back-formation from the West's view of it as such (because it was such a common decorative motif in Muslim cultures), which the Ottomans then adopted in the 19th century.
There is, however, another case to be made that the prominence of the moon-star (ayyıldız) motif on the Ottoman flag is a Central Asian Turkic shamanistic symbol syncretized into Islamic understanding fairly early on in the conversion of Central Asia—so more like a Christmas tree than a crucifix, or perhaps the Magen David, which seems to have emerged from obscurity in Jewish mysticism only a millennium or so ago. (And plays an equivalent role with the Israeli version of the Red Cross.)
It having then attained an "Islamic" meaning in the Ottoman Empire, various of its non-Turkish successor states adopted it as a symbol of Islam, not realizing that it wasn't (perhaps) Islamic in antiquity.
However it came about, always take care with these sort of just-so stories that get peddled. There's enough disinformation out there about Islam that one's first instinct should be to doubt things that sound convenient (and polemic). Also, there's enough genuinely objectionable from a Western (or Christian or Jewish) point of view in many aspects of Islamic theology, traditional Muslim cultures, and the mess that is the Arab world in particular, that we don't need to exaggerate the indictment into a categorical condemnation of a religion that's been a lot of different things in different places in its history. Because your alternatives then are annihilating the religion or quarantining a billion people.
Yes, currently a lot of Muslims have adopted a particularly nasty interpretation of the religion (which mostly dates back to Hasan al-Banna, c. 1928, and Sayyid Qutb, c. 1950, as well as liberal doses of Fanonism, Leninism, etc., as you may recall). In so far as we can affect this debate in the Muslim world (which we largely can't), we need to do what we can to support the more benign, tolerant, local, traditional Islams where they are found as well as those Muslims attempting to make the religion's self-understanding compatible with contemporary realities, and hope for the best. Also, crush and demoralize the violent fanatics. Helping the overthrow of the odious Islamic Republic of Iran would be a fabulous start, but that seems to be a non-starter for the current administration.