Why Does Iceland Hate White People?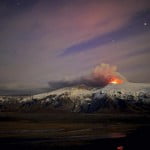 There is bad news and good news on the Iceland-is-again-destroying-the-world front.
The bad news is that each time Eyjafjallajökull (pronounced "lind-say-LO-han") erupts, a more powerful volcano named Katla explodes within six months.
The good news, of course, is that Katla is shitloads easier to spell and pronounce.
Evidently, eruptions of Eyjafjallajökull in 920, 1612, and 1821-1823 always resulted in eruptions of Katla six months later.
You should of course realize that the Mandarin's Volcanatic Magmafier was operating each time. Eyjafjallajökull makes sense; but the Czar must remember to ask the Mandarin…why Katla?