Never Doubt Your Gormogons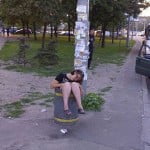 Our plan to surreptitiously undermine world governmental entities as install ourselves as a Ruling Pentavirate proceeds apace. Our plan to crater worker productivity by introducing our readers to Texts From Last Night already bears fruit.
Gormogon Operative J.R. writes as follows:
You've ruined my life.
Your post about "Texts from last night" has me hooked. It's like potato chips – I can't stop!Sociologically, I find the site absolutely horrifying.
As a 25-years-past college graduate, I'm wondering what the hell I missed. We had a few nights, but nothing like that…
As a reader, I can't stop laughing. It's starting to *really* irritate my wife.
And yes, J.R., the wifely irritation is all part of our vast strategy. In fact, we test wifely annoyance in Mandarin's lab using Mrs. 'Puter as a test subject. Mrs. 'Puter broke after the first 20 minutes of childish snickering from 'Puter.
Just you wait for Phase Pi of our plan.