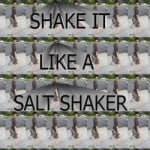 We are all children now!
Your benevolent governmental paternal unit has determined that Americans are too stupid to determine what they can shove in their pie holes, so they've made our food choices easier by eliminating all the "bad" or "wrong" options.
That's right, boys and girls. The government's on a crusade to eliminate salt from the American diet through governmental regulation.
Jeebus H. Tapdancing Christ on a bicycle! 'Puter hasn't been this mad since Czar switched out 'Puter's Everclear with turpentine, and he didn't notice the difference.
'Puter doesn't ask for much from his government. Decent roads, some national defense, minimally corrupt government, etc. All 'Puter asks in return from his government is to leave him the heck alone.
It's not like 'Puter's asking the government to provide him food or shelter, in which case the government is well within its rights to limit choice. Beggars can't be choosers. If you're on food stamps, the government can tell you to eat saltless canned spinach and dried chickpeas. You're on the dole; you don't get a say.
But leave 'Puter and his crappy, fatty, salt-laden, alcohol-fueled diet the heck alone, as he's a quasi-self-supporting adult. It's an American right to shove whatever noxious crap one wants down one's food hole. 'Puter's willing to abide the consequences of his poor decisions. And, last 'Puter checked, salt is necessary for the human body to function properly.
More annoyingly, this affects what goes on inside 'Puter's castle. Apparently, for liberals, any room in the house, except for the bedroom, is free range for government regulators. Low flow toilets, energy star appliances, smart meters, the intrusions just keep coming. You want to get it on with three midgets and a throng of macaques? Go for it! Heck, you can get NEA funding for your performance art. So long as it's for the children, or for the environment, or for your own good, that's all the justification the government needs to intrude into your most personal decisions.
'Puter'll be goll-darned if he's going to put up with these mule muffins. Czar and 'Puter are going out tonight for Maalox Margarita night at the Leaping Peacock, with extra salty rims!